Quilting Arts Magazine subscription - Save up to 38%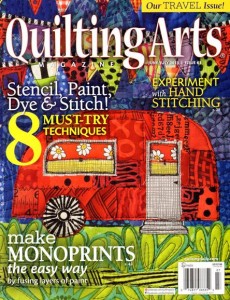 Quilting Arts Magazine is a leading source of information, news and advice for contemporary art quilters across the U.S.
If you consider yourself a contemporary quilter, fiber artist, embellished quilter, or wearable art artist, this bi-monthly publication should meet your creative needs.
Published six times a year, Quilting Arts covers a wide range of skills, includes exceptional how-to- articles, profile artists, features guest teachers, and explores contemporary textile works, surface design, embellishments and motifs. If you are an enthusiast in this field, look no further.
Issues per year: 6
Publishing frequency: Bi-monthly
First published: Unknown
Publisher: F&W Media

↓ Don't miss out on a chance to save up to 38% on a Quilting Arts Magazine subscription. ↓

Deep Discounts on Art Magazine Subscriptions: Quilting Arts Magazine

Looking for another art magazine? See our Top 5 List or view all current deals.